We were asked to modernize a bathroom in a home in Warwick. The bathroom is longer than the standard bathroom size of 1.7m (170cm) at 1.97m (197cm). A bathroom length longer than 1.7m brings a problem of how to finish the space at the end of the bath. A bath is normally 1.67m – 1.7m long.
The bathroom finish is made up of various materials including a mixture of wall paper and tiles on the walls. A wooden floor which was beginning to show signs of water damage. Timber boxing in area and a wooden shelf area. This can be seen in the image below.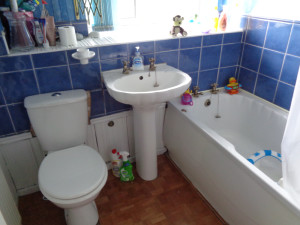 Wall to Wall Bathroom Units Floor Plan and Design
We suggested fitted a combination vanity basin and toilet unit between the left hand wall and bath and then creating a studded area of the same height and width as the vanity units over the bath to create a complete wall to wall fitted furniture finish.
The two images below show the original bathroom floor plan and the new floor plan design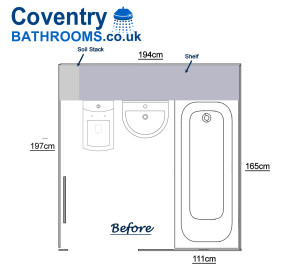 By removing the bath studded wall we were able to open up some of the bathroom floor space by fitting vanity units flush against the wall.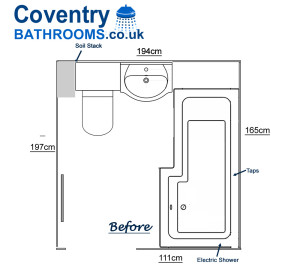 Images of The Finished Bathroom in Warwick
On the left side of the toilet is the soil pipe which is fitted internally in the house. The combination vanity unit is roughly 105 cm wide. This is fitted between the soil pipe studded area and the bath. The area at the end of the bath is studded out and tiled. This creates the wall to wall vanity furniture finish.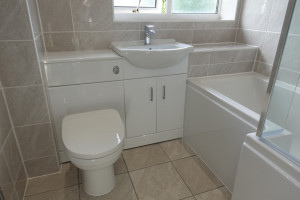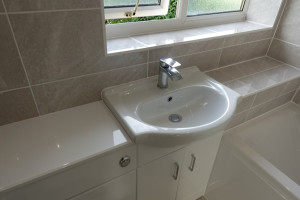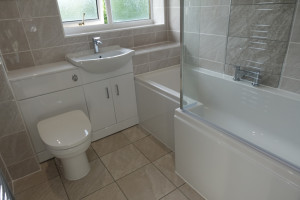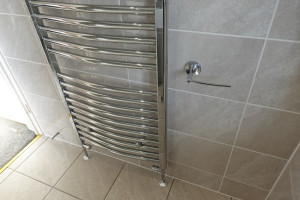 As the house has a low pressure hot water system, it was not possible to use a thermostatic shower, so an electric shower was chosen. Triton offer modern electric showers. A Triton Aspirante electric shower 9.5kw in white with chrome finish was fitted. We arranged for the extractor fan to be positioned in the ceiling directly above the shower area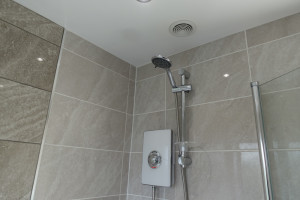 The bathroom walls were completely tiled. On the long bath wall we fitted a feature wall running vertically up the wall. The bath taps were fitted to the bath on the back wall in the centre of the feature panel.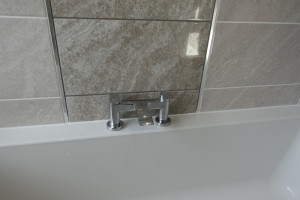 We created a new looking bathroom ceiling. This was achieved by the electrician removing all the pull switches and the old bathroom light. We plastered the ceiling and the electrician fitted 4 led down lights and a ceiling extractor fan. The original pull chord switch for the bathroom lights was upgraded to a wall mounted light switch fitted in the hallway. The isolation switch for the electric shower was relocated to the airing cupboard.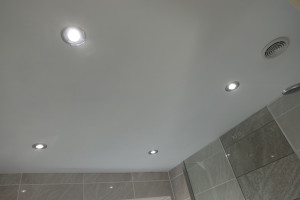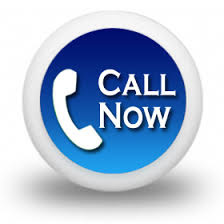 Tagged with: L Shaped Shower Bath • Travertine Bathroom TIles • Wall To Wall Fitted Bathroom Storage