This bathroom is in a house in Radford Coventry. The bathroom is not the normal 170cm x 190cm which is common in Radford and Coundon houses. This bathroom is more narrow at 150cm and is much longer at 250cm. The bathroom layout consisted of a rectangle shower, basin at the end of the shower and a toilet. The original floor plan is shown below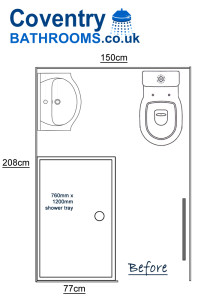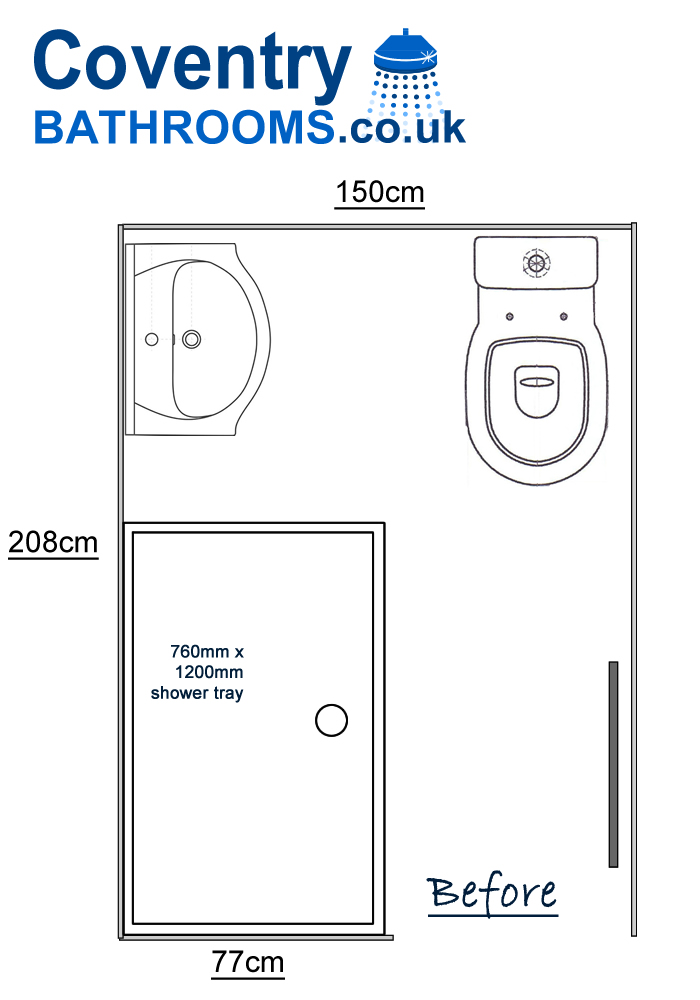 Considerations when designing a shower Room
For those with small experience when designing a shower room will select the largest rectangle shower tray. We believe that a quadrant shower or curved shower will allow more access around the room. Where possible we fit a quadrant shower over a rectangle. The client requested wall to wall bathroom storage running from the toilet to the left hand side wall. By changing the shower to a quadrant it opens up the area above the shower allowing easier access to the storage area.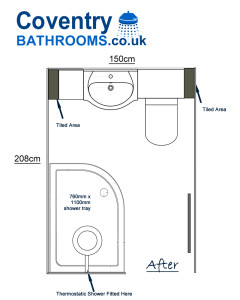 The items fitted to the bathroom include
Thermostatic Dual head shower with fixed rain and hand held remote shower head
760mm x 1100mm stone resin shower tray
760mm x 1100mm 8mm glass shower enclosure
Combination vanity basin, toilet and cupboard unit measuring 130cm wide
600mm x 1200mm chrome towel rail
Serpentine Grey Wall tiles with a feature wall panel and matching floor
Images of the renovated Shower Room
In the image below you can see the wall to wall storage units, this was created using three separate units, vanity toilet, vanity basin and vanity cupboard unit. All three units together measure 130cm, the space to the left and right is closed by boxing in and tiling the areas.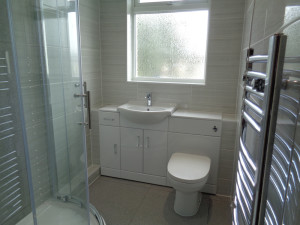 The feature panel on the wall in the shower area is made using a quartz tile. The same tile is used on the floor.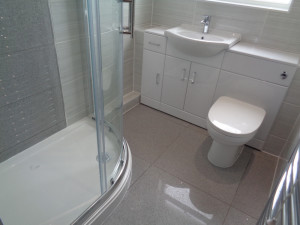 The shower tray is a stone resin shower tray measuring 760mm wide by 1100mm long.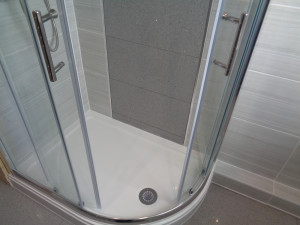 1200mm x 600mm chrome towel warmer radiator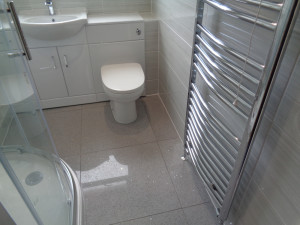 The thermostatic shower takes water from the combination boiler. It has a 30cm large fixed head and a hand head smaller head shower.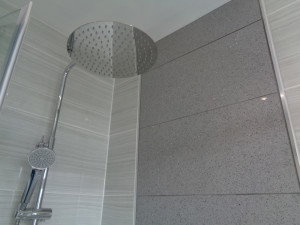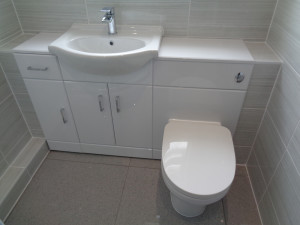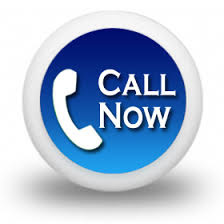 Tagged with: quadrant shower • Serpentine Bathroom Tiles • Wall To Wall Fitted Bathroom Storage