Originally this was a shower room which the home owners requested be updated to a new walk in shower room. The layout of the shower area toilet and basin did not need changing. Though the window wall had two positions with the wall being a z type shape. It was decided to make the window wall straight to provide a more stylish flow within the shower room.
Below are the two floor plans for the shower room, the before and after floor plans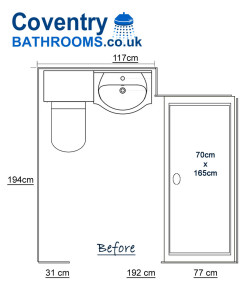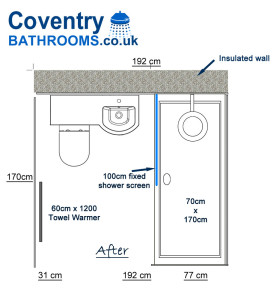 Images of the Completed Walk In Shower Room
The image below shows the toilet and basin which is a combined unit 96cm wide. Under the basin there is storage which is accessible via a single opening door. The radiator is a chrome towel warmer 60cm by 1200mm wide, the heat output of this towel warmer is 1500Btus which will provide more heat put thatn this size bathroom requires.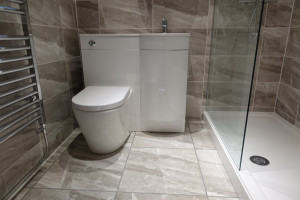 The image below shows the shower tray which is a 170cm long by 70cm wide shower stone resin shower tray. The shower screen is a fixed shower screen 8mm thick 100cm long. The advantage of this type of screen instead of a sliding door screen is there is no moving parts, reducing areas to clean and any wear and tear.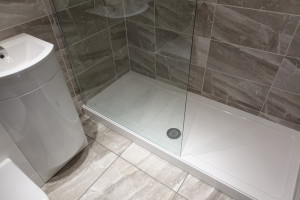 We have a rule when fitting out a bathroom, pipe work on display either has to be closed over and tiled or changed from copper to chrome. The pipe work to the radiator could not be repositioned to come out of the floor or the wall parallel to the radiator. This resulted with the heating pipe work on display. As you can see from the image below, we connected the towel warmer to the heating system using chrome plated copper pipes.
The tile is this bathroom is a slate effect ceramic tile. The wall and floor tile are matching tiles. The wall grouted with white grout and the floor with a grey grout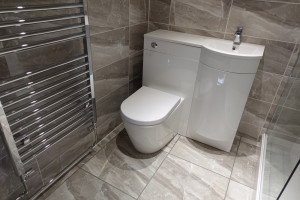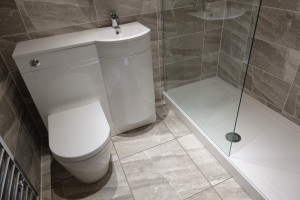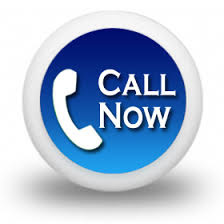 Tagged with: Astbury Bathroom Tiles • P Shaped Vanity Unit • Walk in shower