This bathroom included a T shaped shower bath that we supplied and fitted. We have found that a shower bath with fixed rain effect shower to be very extremely popular. A T shaped shower bath offers a spacious area in which to shower and a bath, all in one unit. This particular bath has bath taps located on the wall side centre, allowing for the unit to be used both ends, ideal if two people wish to share a bath.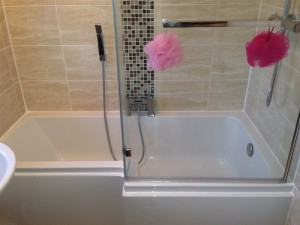 Three fitted shower heads
The bath taps include a fitting for a shower head, this shower head was fixed to the wall above the bath taps. The the rain effect shower was fitted at the end of the bath giving the bath three shower heads.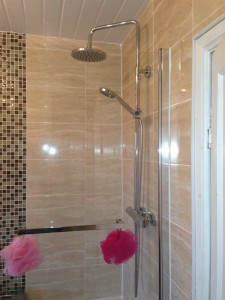 As a feature we fitted full width matching colour mosaic tiles. The feature was added twice, one from running parallel from the toilet to the ceiling and the second from the bath taps to the ceiling.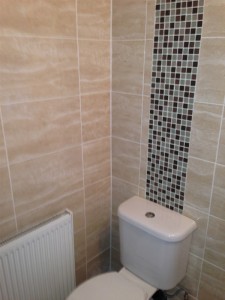 The sink is a standard bathroom sink with mixer tap. All taps etc are high shine chrome finish.