The clients though the corner bath took too much of the floor space. They came to the conclusion that a corner bath is not ideal to use as a shower bath. For these reasons amongst others they required a bathroom renovation which would include changing the corner bath for a P shaped shower bath.
The bathroom is the standard length of 170cm which is the length of a standard bath. The bathroom is slightly wider than the normal bathroom at 228cm wide. The layout of the bathroom suite is different to the standard fitting with the toilet being located between the basin and the basin. As the bathroom is wider than the standard, the space allows for this layout.
Original and New Bathroom Design
The image below is of the original bathroom layout showing the corner bath left of the image, the toilet between the bath and basin and the basin to the right. The radiator is shown on the right hand side wall.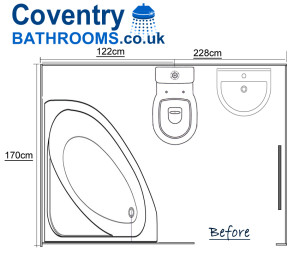 The image below is the new bathroom design showing the position of the P shaped shower bath and that the tap and shower end is the internal wall as apposed to the window wall. The toilet, basin and towel warmer to be fitted in the same location.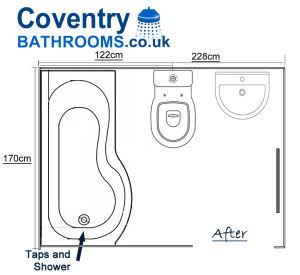 Bathroom and Tile Products Fitted in the Bathroom
The clients choose the following bathroom items
Beige travertine effect ceramic wall and corresponding floor tile
Left hand P Shaped shower bath with glass shower scree
Thermostatic exposed Shower with twin shower head
Modern Basin and Toilet which soft close seat
1200mm x 600mm curved towel warmer in chrome
Matching Basin and Bath taps.
Bathroom before and After Images
This is the bathroom before work began.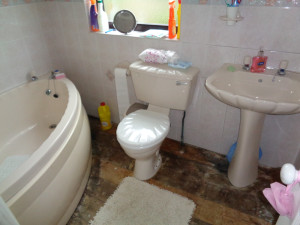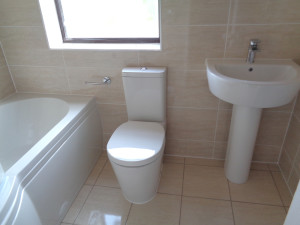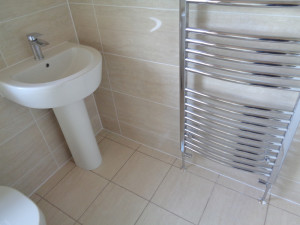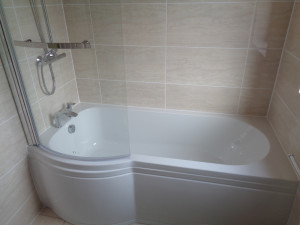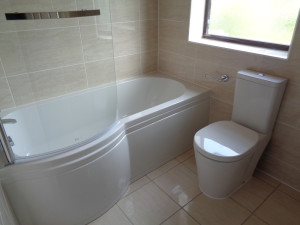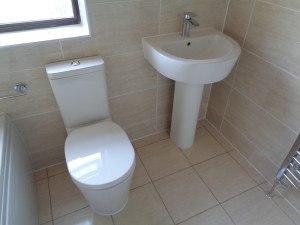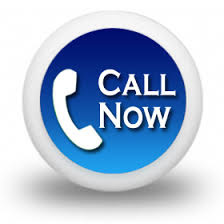 Tagged with: Beige Bathroom Tiles • P Shaped Shower Bath