This is a new build house in stoke Coventry. The original bathroom floor plan had the basin on the left hand wall taking up important floor space. On the first visit we suggested that it would be possible to open up the bathroom floor space by re-positioning the basin to the left hand side of the toilet. As there is not a lot of space, a space saving basin would be needed. The client suggested that they would like storage under the basin so a 40cm storage vanity basin was chosen.
Below is the original bathroom floor plan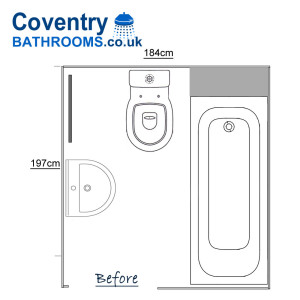 The floor plan below shows the new location of the basin, the towel warmer also had to be relocated. The bath and toilet remain in the original location.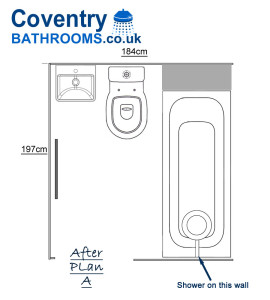 Images of the Refitted Bathroom
The image shows the position of the basin tight to the left hand wall. We have done this to allow ample space for when sitting on the toilet and to try and position the toilet central between the basin and the bath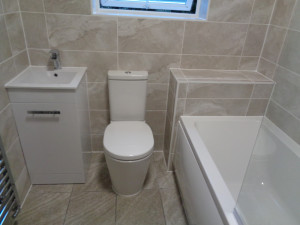 The bathroom is longer than the length of a bath. To close this area we boxed and tiled in the space creating a tiled shelf and storage area at the end of the bath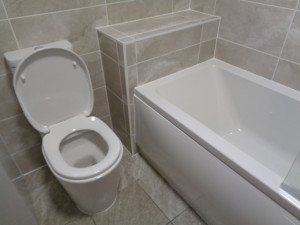 To heat the bathroom and dry towels we fitted a 1200mm x 600mm towel warmer, it will radiate enough heat to warm the bathroom even in the depths of the winter.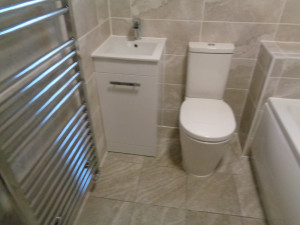 The heating pipe work for the towel warmer we changed inside the wall void from white plastic to 15mm chrome plated copper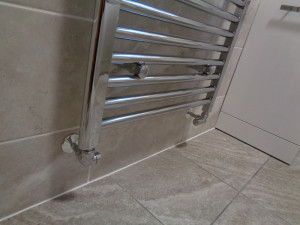 As the house has a combi boiler which heats the radiators and the hot water, we were able to fit a wall mounted thermostatic shower. It was decided the bath would be finished with a glass shower screen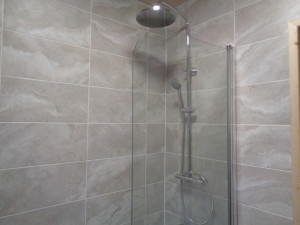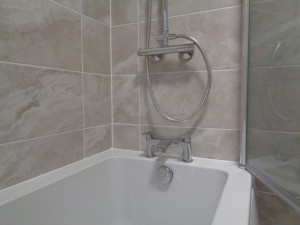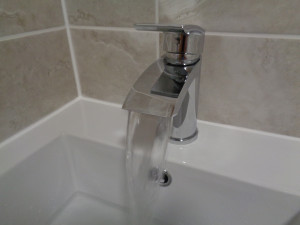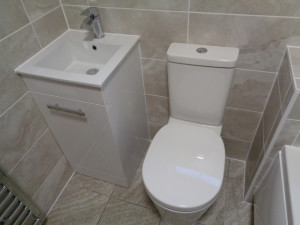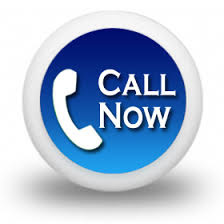 Tagged with: Roundhay Bathroom TIles • Space Saving Vanity Storage Basin Unit • Straight Bath