On the first inspection of the bathroom we found that the bath could better be placed at an alternative position in the bathroom. The bath was originally fitted against the window when it could be moved and placed against a solid wall, making it more suitable to be a shower bath. When the decision from the owners was made to move the bath, it was then decided that a p-shaped shower bath would be more suitable.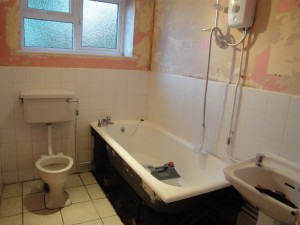 It was decided to move the bath to the location of the sink and the sink of the bath
The normal procedure was carried out with first removing the bathroom suite and the all of the wall tiles. It was necessary to move the radiator which was to be replaced with a towel radiator warmer.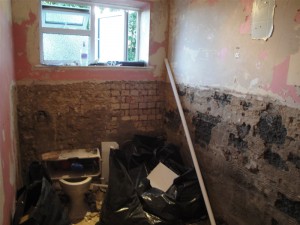 For us to achieve this, we had to cut channels into the concerete floor so the water feeds to and from the radiator could be hidden below the floor tiles.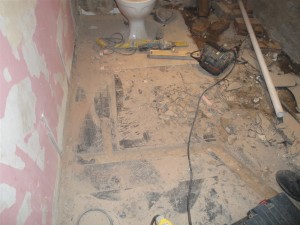 Smooth walls look great, but flat walls are necessary for tiled walls. That is why we always recommend that bathroom walls are boarded before before being tiled and not plastered. We boarded the walls; many of the water pipes were then hidden behind the boards including the hot and cold water supply for the power shower.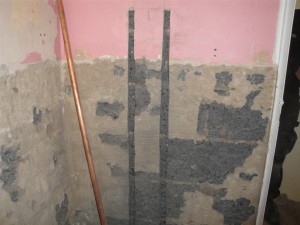 Always board a bathroom wall to ensure the wall is flat for tiling. Do not plaster the walls
As the bathroom furniture is being located to different areas within the bathroom, the floor needed to be leveled, just like the walls tiles, the floor needs to be flat to ensure a good finish. As the floor is concrete, we used a self leveling compound.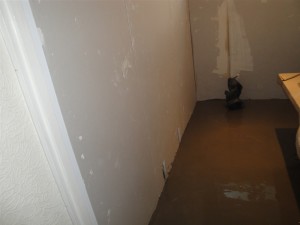 Bathroom Walls Boarded, Floor Leveled
The dirty work has been completed, with the bathroom now in a state that will allow for it to be put back together. So it is time to place all the items in the correct place, and box in the areas between the vanity toilet and the wall and also the vanity sink wall and bath.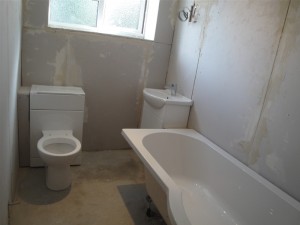 Tile the Bathroom
The bathroom walls are tiled and a feature is placed above the centre of bath. The floor is also tiled with a matching matt black floor tile.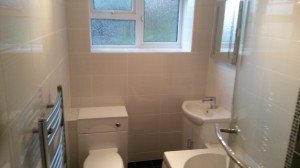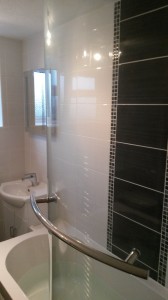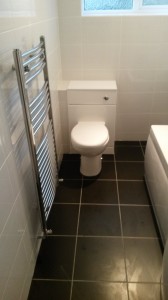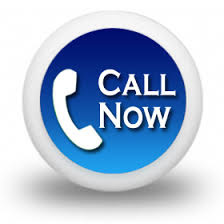 Tagged with: P Shaped Shower Bath