This is an old aging bathroom in a home in Cheylesmore in Coventry. The clients asked for us to transform the bathroom into a new modern bathroom. When we removed the bath and tiles a lot of the plaster also came away from the walls. We then removed all the remaining plaster taking the bathroom back to the brick
The image below shows 4 stages of the bathroom conversion. The start, stage 1 with the entire bathroom removed and back to brick, the bathroom walls partly boarded with plaster board. Finally the bathroom is finished with tiled walls and fitted bathroom furniture.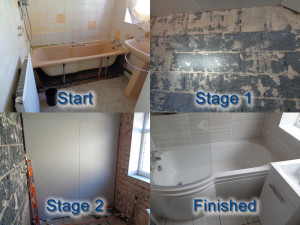 The images below show the original floor plan and the new floor plan with a P shaped shower bath. A standard bath is 70cm wide while a P Shaped shower bath is 75cm wide. Though it is only 5cm wider, in most bathrooms this will restrict the type of basin that can be fitted in the remaining space. The client requested a basin with built in storage (vanity basin). The space available would only permit for a 40cm vanity basin. This is known as a space saving vanity basin.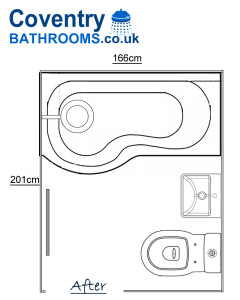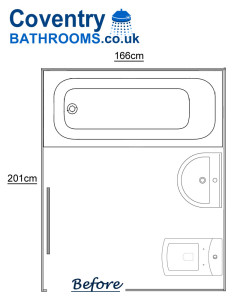 Images of the completed Bathroom
This is a photo of the bathroom before the work was carried out.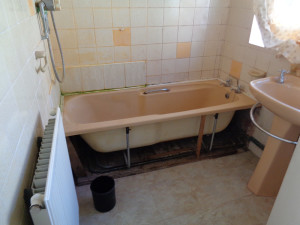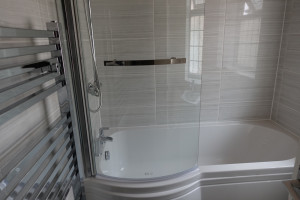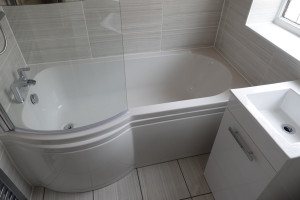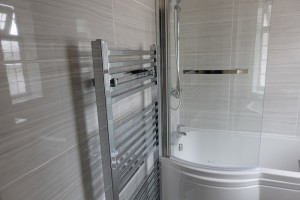 The photo below is the original old basin and toilet before the bathroom work was carried out.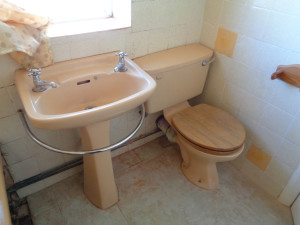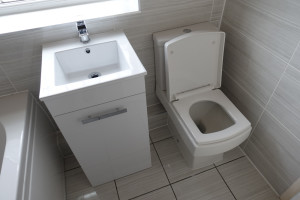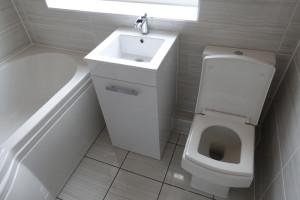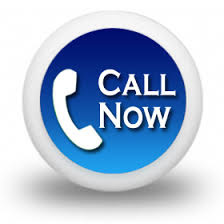 Tagged with: P Shaped Shower Bath • Serpentine Bathroom Tiles • Space Saving Vanity Storage Basin Unit