One of the services Coventry Bathrooms offers is a landlord bathroom fitting service. If a property requires a new bathroom that needs fitting between tenants, ie a tenant moving out and a small gap before the new tenant moves in, you can pre-book that week with us for that bathroom to be fitted. This helps you the landlord get the house back on the rental market in the quickest possible time and earning you money.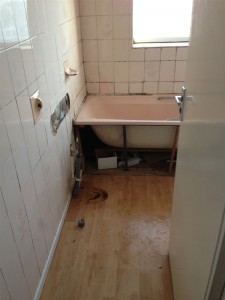 This was a real transformation of a bathroom. The original bathroom was old and tired, very old and very tired. The bathroom had originally been fitted in the 1970 when a pink bathroom was fashionable. Five days later the bathroom was handed back to the customer, who is this case is a landlord. The house is now back on the rental market and with a bathroom like this I guess they will have a tenant within days.
The bathroom consists of a standard white bathroom suite including toilet, sink and bath. Over the bath is an electric shower.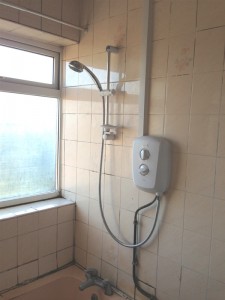 The original bathroom had cables within electrical trunken fitted over the tiles. After removing the original tiles and going back to the brick work (and blocks in this case) we then had an electrician fit the cables to the wall. The walls were then boarded giving a perfect flat surface and then the tiles were fitted to the walls and the floor.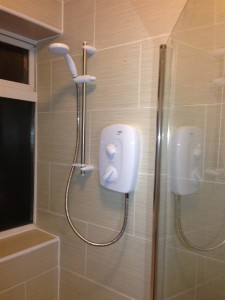 As you can see from the pictures, the wall tiles were fitted to the wall in a landscape manner. We find that rectangle tiles look good fitted landscape. Tiles fitted in this manner do not need a boarder which helps to keep the cost of the bathroom at a low price.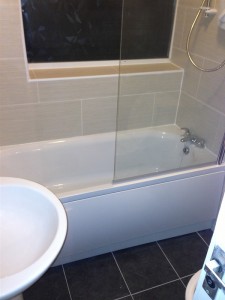 This bathroom cost ₤1900 inclusive of removing the old bathroom, preparing the walls, supplying the new bathroom suite, wall and floor tiles and complete fitting of all the parts.