Of all the work that we are carrying out at this time, it appears that in most cases the customer requires some type of shower bath. The most popular of these is the P-Shaped shower bath which comes in either a left or right handed version. The other request we receive from customers is to complete the work in the shortest time possible. Most bathrooms we are able to remove the old bathroom suite and tiles and fit the new bathroom in 5 days.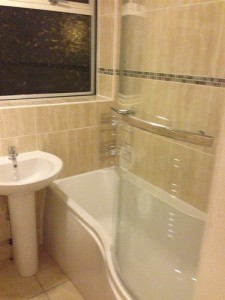 The P-Shaped shower bath comes in a set which includes a glass with chrome handle shower door that is fitted just above the height of the bath to keep the spray water inside the bath area.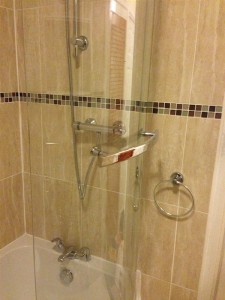 These types of baths are versatile and ideal for families offering the option of being able to take a bath or being environmentally friendly by taking a shower which in most cases is quicker and uses less water.
Shower baths come with the option of having taps at one end, in the center or no taps at all, leaving the fitting of the taps to be plumbed into the wall above the bath.
This job the customer selected a right handed P-Shaped shower bath with taps at the end. The shower operates from a second tap plumbed into the wall and the hot water is taken directly from the gas combo boiler (central heating system).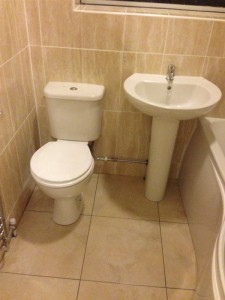 The wall tiles are brown and cream with a matching double Mosaic tile border. The floor tiles are mat non slip tiles.
The bathroom was finished with a towel warmer (radiator) and separate towel rail fitted above the warmer. A bathroom cabinet completed the job.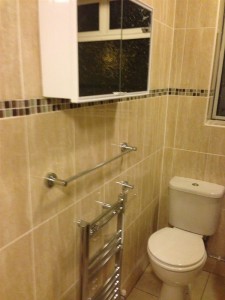 The New Bathrooms was fitted in 5 days
It only took 5 days from start to finish to fully fit the bathroom and complete the work before returning the bathroom in its new state to the customer.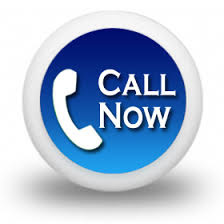 Tagged with: P Shaped Shower Bath