Mosaic Tiles as complete wall tiles.
Mosaic tiles are normally more expensive than standard wall tiles. Though when the are fitted as wall tiles they give a real modern look.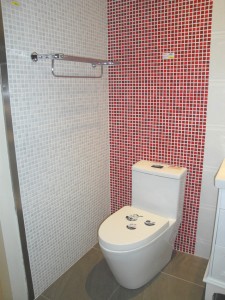 It is important to note that each individual tile is small, this means that a wall needs to be flat for a good finish. The small mosaic tiles will show any imperfections on the walls. It we were to finish a wall with Mosaic tiles as complete wall tiles, we would board the walls first which would help to guarantee a perfect finish.