In this first example a white tile is fitted horizontally and a Mosaic tile fitted as a white border. This is a good example of a Mosaic tile adding style and colour. In this example the Mosaic tile blends the floor tile with the walls tiles.
In this second example a standard cream tile is used and a Mosaic tiles as a feature taking up roughly a third of the wall space. This adds allot a colour and style to the bathroom.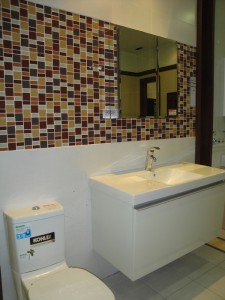 In this example a plain grey tile is fitted. Mosaic grey and black tiles are added for effect and finished with a silver boarder below and above the Mosaic tiles.