People are beginning to realise that a bath is no more than a 45cm deep shower tray, as the bath is normally used as a place to take a shower, very ralerly if ever filled with water and used as a bath. This is one of the reasons why people are turning their dated bathrooms into modern shower rooms.
This bathroom to shower room conversion was in a house on Watersmeet Grove Coventry.
The bathroom a standard size bathroom for a terrace or semi house in Coventry, measuring 168cm long by 179cm wide and 247cm high. The diagram below shows the original bathroom design as originally fitted when the house was first built.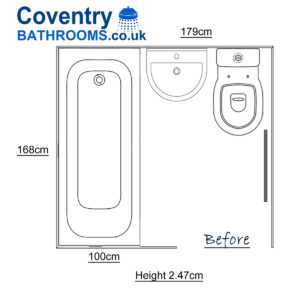 How to turn a dated bathroom into a modern shower room
Normal family bathrooms have a small floor foot print. It can be difficult to fit a shower tray measuring 100cm by 80cm without taking up valuable floor foot space. One way to make best use of any available space is to use the space between the door frame and the side wall. As shown in the image above, this bathroom has a available width of 100cm. This is an ideal shower tray length. The width of the shower tray is 80cm, this will leave a space between the end of the shower tray and the window wall of 68cm, just enough to fit a vanity basin and cupboard unit. The image below shows exactly this shower room layout.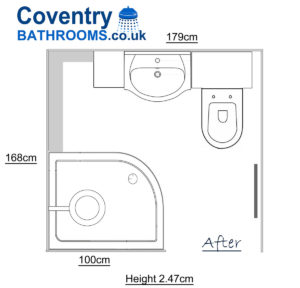 Images of the modern shower room
The shower room was fitted with a combination of vanity units including toilet unit, 55cm vanity basin and 25cm cupboard unit all in high gloss white finish.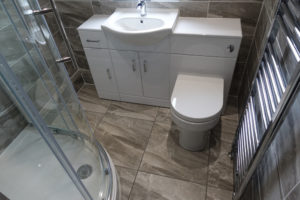 To create a modern stylish and expensive look we have called upon some well-priced and beautifully designed bathroom tiles created by British ceramic tiles. The wall and floor tile are the Astbury grey matching wall and floor tile.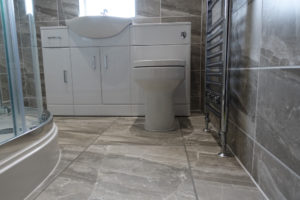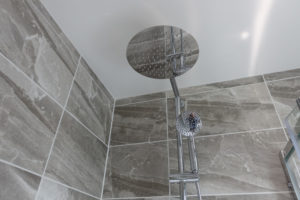 The shower tray is a stone resin shower tray, 100cm long by 80cm wide and is a curved off set quadrant shower. The shower screen is 8mm shower safety glass.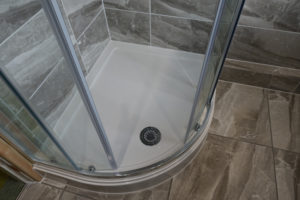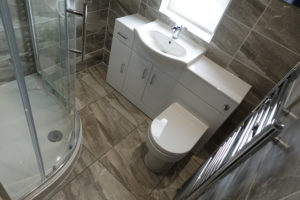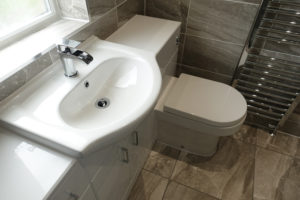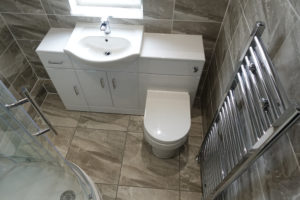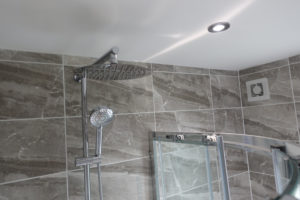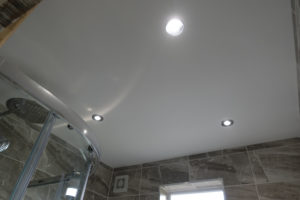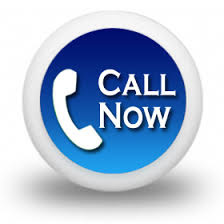 Tagged with: Astbury Bathroom Tiles • quadrant shower • Wall To Wall Fitted Bathroom Storage