High Ceilings Fit a Double Border
Most bathrooms in the Coventry area are the same width length and height. This is one of the reasons why we are able to give you an accurate quote without stepping into your house. Another reason is that all bathrooms may be different by really they are the same with different fittings finishes.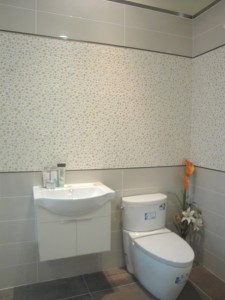 In most cases the height of the bathroom will be 2.3 meters, and if this is the case I would not recommend having a double border in the bathroom. This is for bathrooms that are higher than the standard bathroom.

This is a great effect and can be achieved at a low cost, just remember that in most cases this solution is not ideal.