This is a bathroom on Exhall Rd Coventry. The client requested a bathroom renovation with the walls and floor tiled and upgrading the bathroom suite to a new modern bathroom suite
The bathroom is 210cm wide and 174cm long. Normally with a bathroom this size it would be possible to change the straight bath to a P shaped shower bath. However this bathroom the width between the door and wall is 70cm which is not enough space to fit a P shaped bath.
It would have been possible to move the bath to fit a P Shaped shower bath, but to achieve this; the toilet and radiator would have to be moved. The toilet would have resulted with the soil pipe being altered.
It was decided by the client to keep the same bathroom design.
Below is the bathroom floor plan which is the same for the before and after floor plan.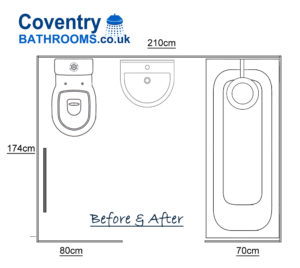 Image of Bathroom Before Renovation
This is the bathroom before the renovation took place; It shows the position of the bathroom items from left to right
Radiator or the left hand wall
Toilet on the window wall
Pedestal wash basin on the window wall
Bath on the window – right hand wall
The bathroom was partly tiles, painted with cushion flooring on the floor.
Between the pedestal basin and bath there is a waste pipe on display, we will relocate this pipe on the renovation.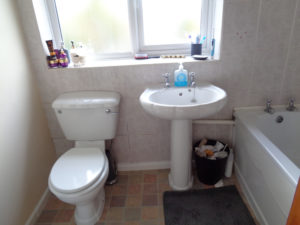 Images of Bathroom After the Renovation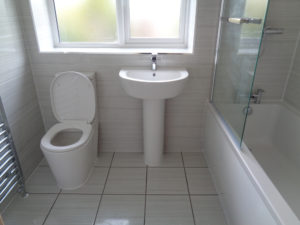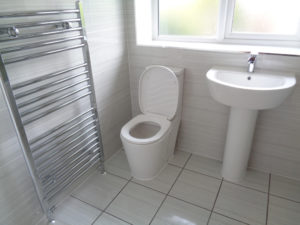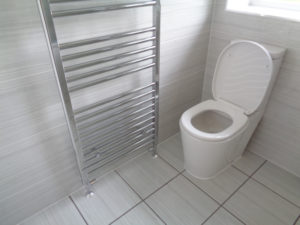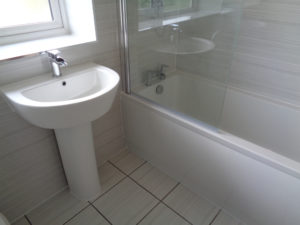 The hot water is taken from the combi boiler which means there is enough pressure at the hot water to run a thermostatic shower. We fitted a wall mounted chrome thermostatic shower with rain head and portable hand shower head.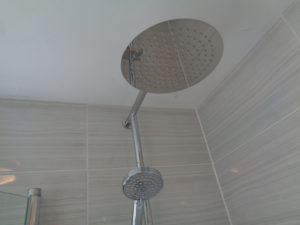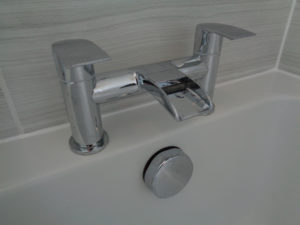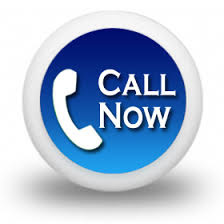 Tagged with: Serpentine Bathroom Tiles • Straight Bath