The bathroom was very standard including size at 203cm wide by 170cm long. The difference was the internal soil pipe which had not been hidden on boxed in. The client requested that the bathroom be modernized and transformed into a stylish bathroom with a shower bath. A big request was that we hid the soil pipe in the left hand corner of the room. The two images below show the bathroom at two angles before and after the work was carried out.


Hiding the soil pipe was easy to achieve, we used timber on the walls and plaster board to cover the soil pipe, we then tiled the bathroom floor, walls and plaster board covering the soil pipe.
Fitting a basin with storage in a bathroom
Bathrooms in a normal family home be it terrace, end terrace, semidetached or detached are about 2m wide. Getting a vanity basin (sink with built in storage) to correctly fit can be a challenge. From what we see most of the vanity basins are 60cm wide.
If we take this bathroom which is 203cm wide and calculate what space is available for a vanity basin, we will see that is likely to be less than 60cm.
Space available = (space from wall to toilet + width of toilet + leg room for sitting on toilet + width of bath + space needed between bath and basin) – width of bathroom
In this bathroom the sizes are as follows
Space from wall to toilet = 19.5cm
Width of toilet 36cm
Leg room for sitting on toilet 15cm
Space needed between bath and vanity basin 10cm
Width of P shaped bath at the window wall 75cm
Width of bathroom = 203cm
Space available = (19.5 + 36 + 15 + 10 + 75) – 203
Space available = 47.5cm
The size available removes most of the vanity basins available on the market, We have found some stylish space saving vanity basins which offer a usable depth and 40cm wide that will fit into the available space of most bathrooms.
Images of the completed fitted bathroom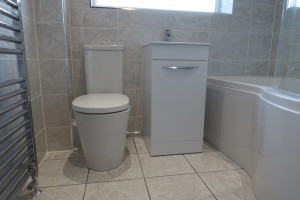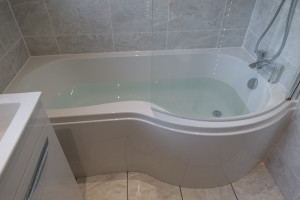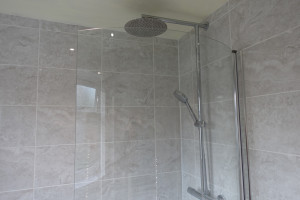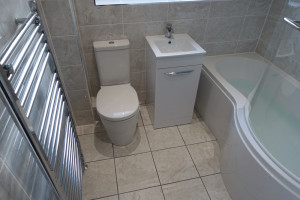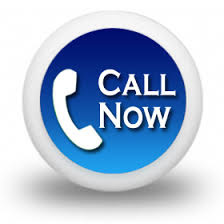 Tagged with: P Shaped Shower Bath • Space Saving Vanity Storage Basin Unit • Vasanello Bathroom Tiles