Under normal circumstances we strongly suggest when fitting a bathroom to leave the toilet in the same position. Moving the toilet will require changes to the soil waste pipe. In a new build house the soil stack is normally hidden within the building, while an older house, the soil stack is normally on the outside back of the building.
Moving a toilet in an older house
Normally the toilet is against the back wall of the house. The soil pipe comes straight through the wall connecting the toilet waste outlet to the soil stack. To move the toilet requires that a new 4inch hole is cored out of the bathroom exterior wall. A new section of waste pipe pushed through the all and the connection to the soil stack either extend or reduce the waste.
The challenges of moving a toilet
Coring out the 4 inch hole will take 2 – 3 hours of noisy dusty work.
The exterior of the house will have a hole left over from where the old soil waste pipe was removed.
Normally this is filled in with render. Leaving a scare to the exterior of the brick work (Not Ideal)
If the waste pipe is cast iron or asbestos, the complete soil stack will need to be replaced prior to the other work taking place.
If the soil stack is asbestos the correct trained trades' people will need to be commissioned to change the soil stack.
Bathroom to Shower room Conversion
The client requested that we change the bathroom to a shower room. Because of the width of the bathroom and the position of the window, there was only one corner wall that would be large enough to fit a rectangle shower; this was the corner where the toilet was located.
This forced the moving of the toilet. This is the original bathroom design and floor plan which shows the position of each bathroom item and the waste and soil stack.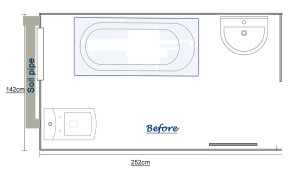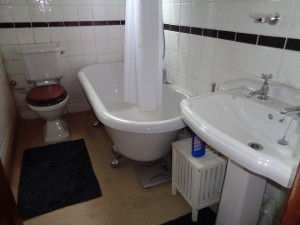 This next image shows the new floor plan for the shower room and shows the new position of the toilet and toilet waste pipe.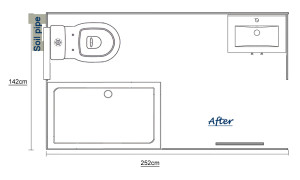 All of the normal protocols where carried out while converting the bathroom to a shower room including
Removing the bathroom suite and tiles
Boarding the walls and plastering the ceiling
First fit plumbing getting the water feeds and waste pipes in the correct place
Fir the shower tray and create the first seal
Core out the wall and connect the toilet waste to the soil pipe
Tile all four walls
Tile the floor
Grout the walls and floor
Fit the basin, wc and shower screen
Silicon seal and clean ready for hand over to the client
Here are the images of the shower room completed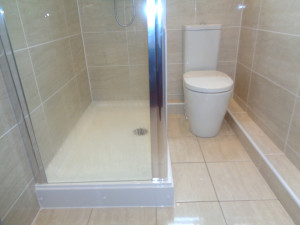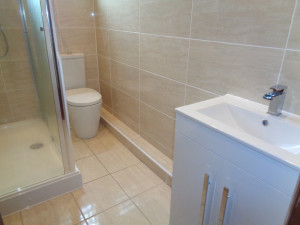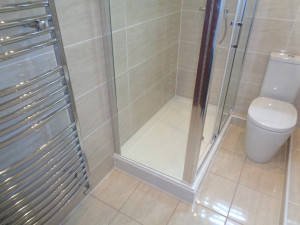 Video of the Bathroom and Shower Room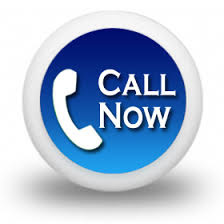 Tagged with: Beige Bathroom Tiles • Walk in shower