The Brighton ceramic wall tiles is a popular collection of wall tile suitable for bathrooms. The tile has a grain running though the tile, is flat with a gloss finish.
There is a wide range of colours available in the Brighton range. By choosing the white tile as the main wall tile, it is then possible to create a feature wall by running a matching strip from the colour selection and finish with either the matching strip tile or a mosaic glass border.
The tile size is 248mm * 348mm and 8mm deep
The Border Strip Tile is 248mm × 80mm and 8mm deep
Floor Tiles 333mm * 333mm
Brighton Black and White Feature Wall
This is by far our most popular colour range. The Brighton Black and White Feature wall bathroom, with horizontal fitted tiles highlighted with a black feature finished with a black, white and grey Mosaic feature border. Though the feature could also be finished with the Pavilion back strip border tile.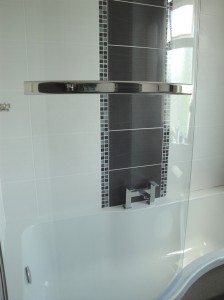 Brighton Grey and White Feature Wall
The tile has been fitted vertically with a grey feature wall edged with Brighton Shine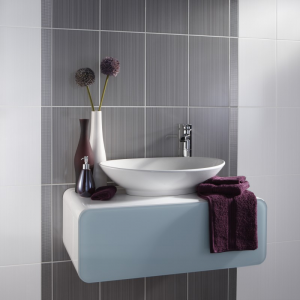 Wall Tiles

Brighton Grey Tile
Brighton White Tile
Brighton Shine Cool Strip

Floor

Brighton White Floor Tile
Brighton Lilac and White Feature Wall
The tile has been fitted horizontally with a white feature and includes a vertical running matching strip tile.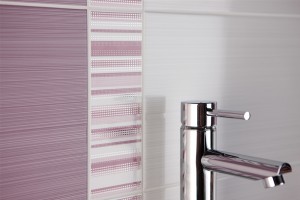 Brighton Blue and White with Border
The tile has been fitted vertically, with Brighton blue tiles for the base, Brighton blue border tiles and Brighton white tiles for the top half of the bathroom.