This house is a traditional style of house in Coventry which had a traditional type of bathroom consisting of a Bath with twin taps, pedestal sink and toilet. The bath had a fitted electric shower.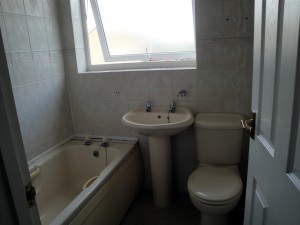 The family requested the conversion of the bathroom to a shower room with fitted vanity units
As with all of our work, we began by removing the bathrooms suite, capping the water pipes and then removing all of the wall tiles and any of the loose plaster. In this house we found that on one wall, the plaster at the top of the wall was ready to fall off exposing the bricks behind. For this reason we decided to totally remove the plaster on that wall, however at the bottom of the all the original sand and cement tile adhesive that had been used in the 1930's was still in place. This results with us using a sds hammer with a tile chisel to remove all of the remaining stubborn sand and cement plaster.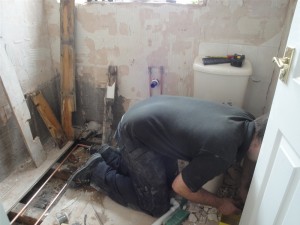 Getting The Walls Ready For Tiling
We always board bathroom walls in preparation for tiling, watch our video section to find out why. At this stage we also used plywood on the floor to ensure that it is flat ready for the floor tiles.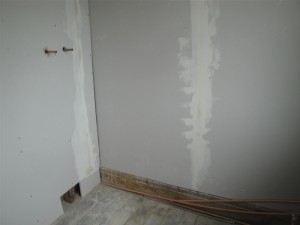 Fitting the Toilet Sink and Vanity Draws
As the bath had been removed and is to be replaced with a shower, there is more floor space available in the bathroom. For this reason it was possible to add to the bathroom
Vanity Sink
Vanity Toilet
Set of Vanity Draws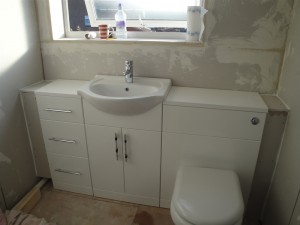 Fitting The Quadrant Shower Tray
The shower tray is raised off the floor and fitted tightly to the boarded walls so that it is possible to double seal the shower to ensure no future leaks.
Tiling Of the Walls and Floor
The waste pipe running from the quadrant shower has been boxed in and tiled over to match the walls. The wall tiles have been fitted vertically with a blue mosaic border as requested by the clients. The floor is tiled with a sparkle effect non slip floor tile.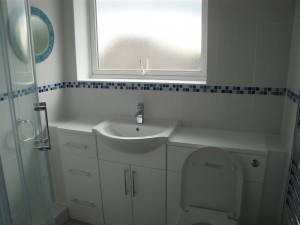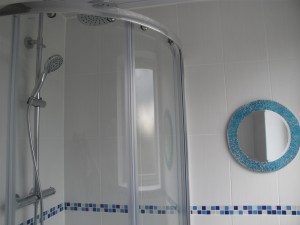 Ceiling Galaxy white Panels
The ceiling has been paneled with white Galaxy effect panels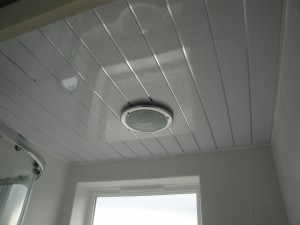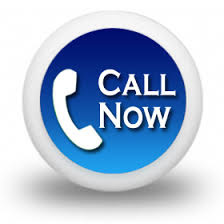 Tagged with: quadrant shower • Wall To Wall Fitted Bathroom Storage