When converting a Bathroom to a Shower room, it is possible to create a shower room which includes a wall of storage. The storage is created making use of specialy made bathroom vanity units. They include a vanity wc unit, basin unit and either a set of draws, cupboards or a combination of both. In most cases it would be sensible to use a quadrant shower as it allows easier access to the storage at the end of the shower area.
Below is diagram and image of one solution to creating a shower room with built in vanity storage. This design will work in many bathrooms when the room dimension is 170cm long and 190cm wide. Any room larger than this will allow either a larger shower, more vanity storage or a combination of the two, If the vanity units do not quite reach from wall to wall, the left over gap can be hidden with a boxed tiled area as shown in the images below.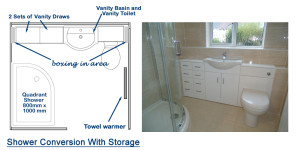 Quadrant or Corner Shower
The Package includes the choice of a Quadrant shower also known as a curved shower, or a Corner shower. We recommend where possible to have a shower of at least the size 800mm x 1000mm though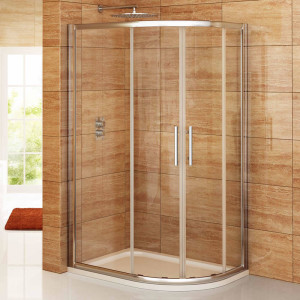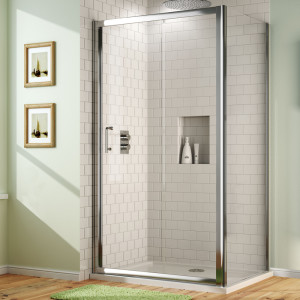 Combined Vanity Basin and WC
Vanity WC with hidden cistern combined to a vanity basin. The basin offers storage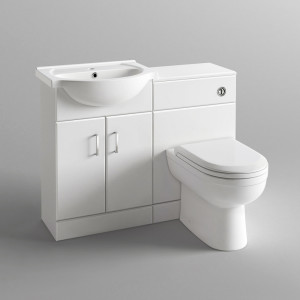 Vanity Draws
Add more storage with either vanity draw or cupboard units. Most bathrooms will be large enough to take two units. With this package you can select from any two units.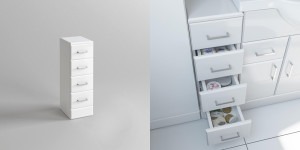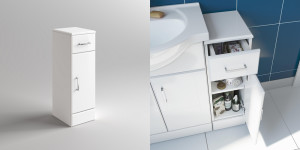 Wider Vanity Basins
For wider shower rooms there is a range of larger vanity basins, sizes include 550mm, 650mm, 850mm, 1050mm and 1200mm.
850mm wide Vanity Basin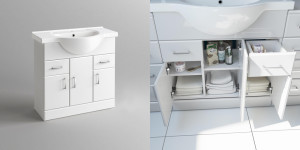 1050mm wide Vanity Basin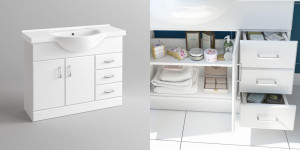 1200mm wide Vanity Basin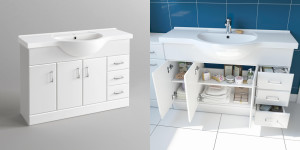 Shower Head and Bar Taps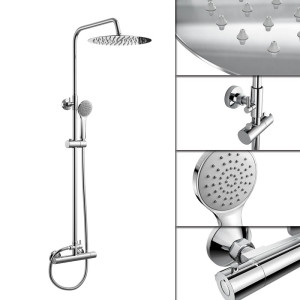 Select from a selection of basin hot and cold mixer taps


Curved Heated Towel Warmer
Change the existing bathroom radiator to a modern chrome towel warmer 1200mm x 600mm with chrome radiator valves and chrome water pipe.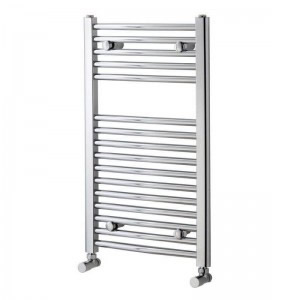 Selection of tiles


The package includes wall and floor tiles up to 20 square meters. All walls will be tiled and any pipes will be boxed and tiled giving a quality clean finish. The floor will be tiled with a non-slip floor tile. Visit our tile section to view the selection of tiles available.
Price includes the following work

Remove existing bathroom suite and any fittings
Remove all wall tiles and board or skim the walls to make them flat (IMPORTANT)
Fit and Double seal of shower unit (IMPORTANT)
Tile upto 18 Sqm meters of wall and 4 Sqm of flooring
Fit and Plumb Basin and Toilet
Fit Shower and Glass Shower Screen
All other fitting and plumbing to complete the work
Removal of all waste materials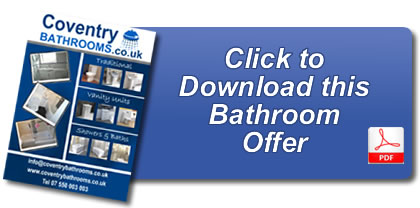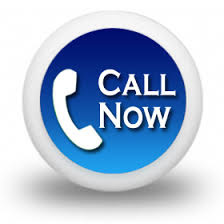 Tagged with: quadrant shower