Bathroom Renovation With Shower Bath and Stylish Storage
This is a bathroom renovation in a house in Kersely Coventry. The clients had a strong idea of what they were trying to achieve with the renovation. Choosing an L shaped shower bath with all other bathroom fixtures with matching straight lines or square edges.
The images below shower the bathroom before and after the renovation.

Originally the bathroom was made of various materials, some not ideal in a bathroom, The bathroom was partly tiles and incorrectly tiled around the bath which allowed water to penetrate around the seals of the bath to the floor below. The floor boards had to be completely remove and the new floor boards fitted.
Around the toilet area was slatted wood on the walls and around the pipe area to hide any waste or water pipes. Though on first inspection it looked nice, it was a dirt trap and and in area had been damaged by water.
Images of the Bathroom After the Renovation
The toilet and basin were replaced with this stylish combined storage basin and toilet unit in a light cream colour.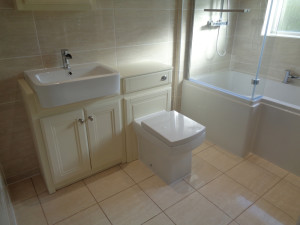 Above the basin and toilet vanity unit we fitted a matching light coloured cream bathroom mirror cabinet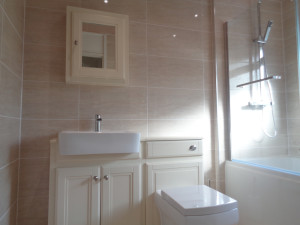 The original straight bath was replaced with this L shaped shower bath. The taps have been fitted to the center back of the bath. The shower screen is a hinged glass shower screen.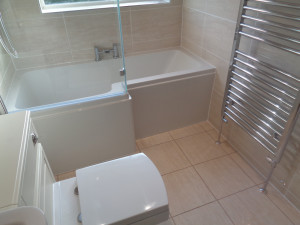 The Vanity basin has a Belfast style basin.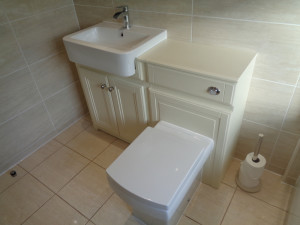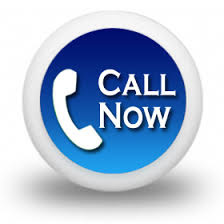 Tagged with: Beige Bathroom Tiles