Bathroom renovated to Walk In Shower Room Broadlane Coventry.
A Bathroom 205cm wide by 168cm long is converted to a walk in shower room. The Layout of the bathroom remains the same with bath being replaced by a stone resin shower tray. The shower tray is the same length as a bath and 10cm wider at 80cm wide. As there is a window at one end not allowing for a wall to wall shower screen to be fitted, a fixed glass shower screen at 100cm wide is fitted.
Bathroom Before the Renovation
This is the bathroom before the renovation begins. It is a normal and typical bathroom.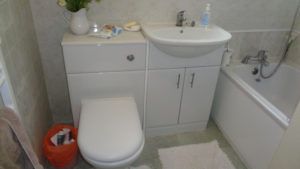 This is the floor plan of the new designed walk in shower room.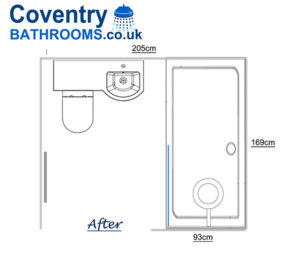 Images of the New Fitted Walk In Shower Room
Below are images of the bathroom after it has been renovated and converted into a walk in shower room.
The layout of the bathroom has not changed with all items being refitted in the same postion. The towel warmer on the left hand side wall has been moved slightly towards the door to provide leg space for when sitting on the toilet. The toilet and basin have been replaced with the P Shaped combined vanity basin.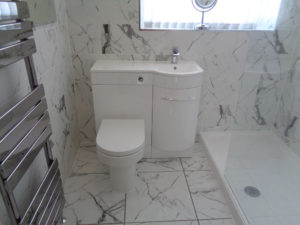 The shower tray is 80cm wide, 170cm long and 35mm deep. The shower screen is a fixed shower screen with no moving parts.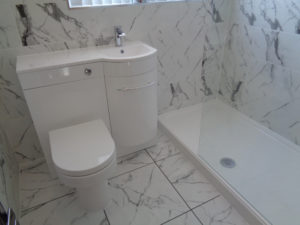 The shower roon is heated by this flat panel towel warmer. A towel warmer is a radiator and is connected to the central heating system as i standard radiator would be. The heat output of this towel warmer is high enough to correctly heat the room as well as drying and keeping the towels warm.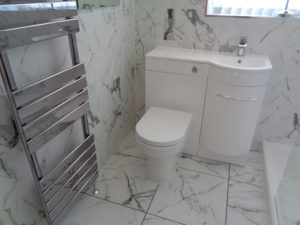 The vanity basin and toilet is 90cm wide. The style is modern and P shaped. There is one door under the basin which opens offering storage below the basin.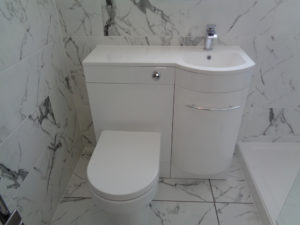 The tiles are British Ceramic Tiles HD Geneva Wall and floor tile.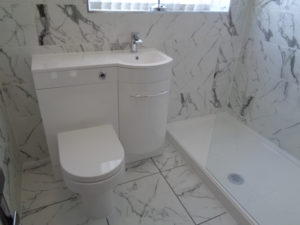 The shower is run from the mains cold water and the combination boiler hot water. The shower is a thermostatic shower, chrome with a fixed rain head shower and a hand held remote shower.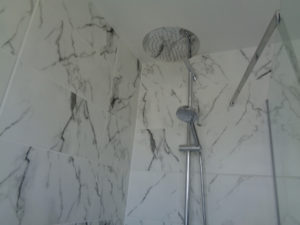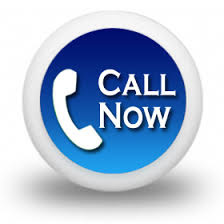 Tagged with: Italian carrara marble Bathroom Tiles • P Shaped Shower Bath • P Shaped Vanity Unit • Walk in shower