This bathroom installation took place in Holbrooks Coventry.
The original bathroom included PVC wall and floor panels. So after removing the bath, sink and toilet and fitting on/off values on all of the water feeds. We removed all of the wall and ceiling coverings. At this stage it was obvious the bathroom ceiling had been fitted to hide the the original ceiling, which had cracks, holes and was in bad repair.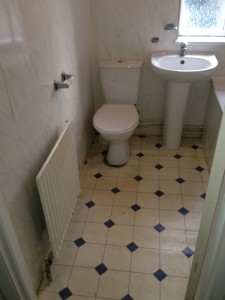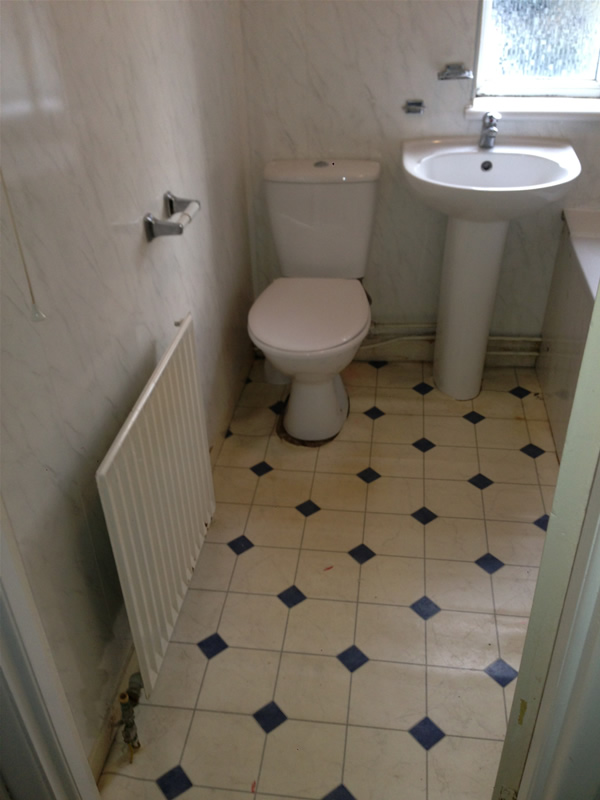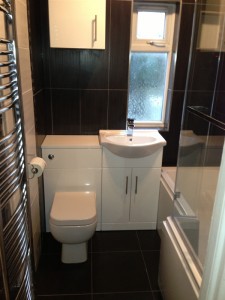 On our recommendation the decision was made by the home owner (customer) to plaster the ceiling. Unfortunately this added 1 extra day to the amount of time it would now take to complete the bathroom installation. It didn't take one day to plaster the ceiling, but to arrange the materials and work man did.
The original copper pipes were old and had been possibly joined with lead solder. We don't want to be brushing our teeth with possible lead contaminated water and old pipes with solder joints are an eventual leak hazard. In the event of a pipe leaking, some of the ceramic floor tiles would need to be removed to gain access to the pipes hidden beneath the bathroom floor. To ensure that the bathroom would be water tight with no nasty surprises of old pipes leaking. We took the decision to replace all copper water pipes within the bathroom area. If you speak to enough people, you will find at least one with an older type house that have experienced a water pipe in the bathroom area springing a leak onto the kitchen or sitting room ceiling.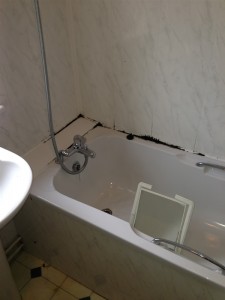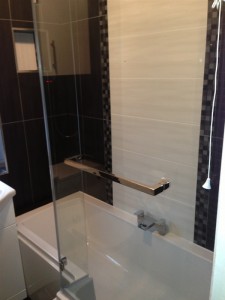 As in most bathroom installations that we carry out, we removed walls tiles and plaster exposing the brick work. All the hard work of clearing the area has been completed and it is time to do the magic, put the new bathroom together.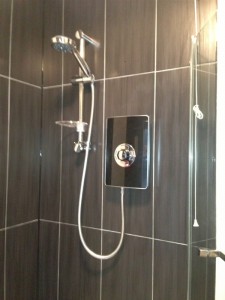 The tiles used for the walls are rectangular in shape. Two colours where chosen by the customer, black and cream with a matching black border. The cream tile was fitted landscape as a feature tile inline with the bath taps, edged with the border tile. The black tile was fitted portrait.