This is a house in Wyken Coventry that we converted from a normal family bathroom to a mobility shower room with a low level shower. The bathroom was finished with wall to wall vanity storage.
The layout of the bathroom did not change. We removed everything from the bathroom including the wall and floor tiles. The bath was replaced by a stone resin low level shower tray.
Image of the old and new Bathroom Floor Design
The image below is the original bathroom floor plan. It shows the position of the bathroom items.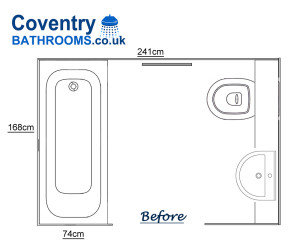 The image below shows the floor plan of the new mobility shower room. You can see that bathroom items were not repositioned. The shower fitted in the same position as the original bath.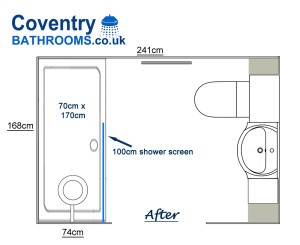 Images of the original Bathroom
Below are the images of the original bathroom.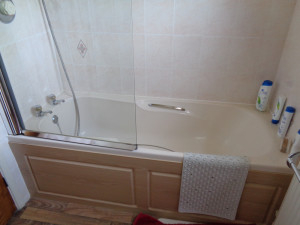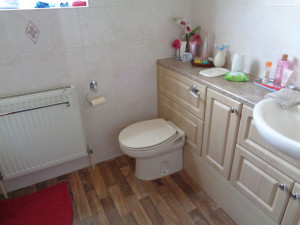 Images of the New Mobility Shower Room
This is the shower tray fitted in the same position as the bath. It has been fitted at a low level to allow easy access. It is the same dimensions as the bath at 170cm long by 70cm wide. The shower screen is a fixed shower screen with no moving parts.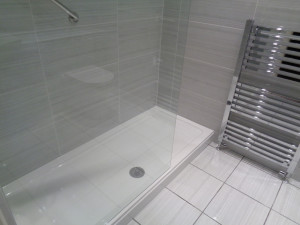 The toilet and basin is a combined unit with an added bathroom storage cupboard. Fitted together they offer a wall to wall fitted finish. Providing storage and leaving no open areas that will need cleaning.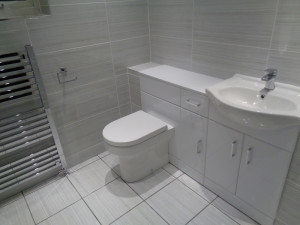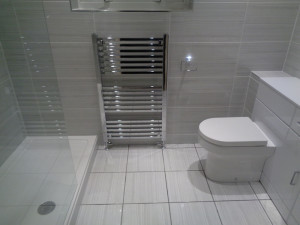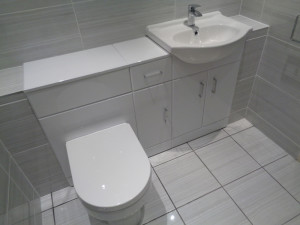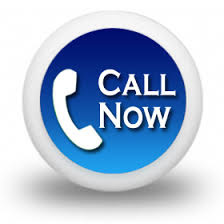 Tagged with: Mobility Shower Room • Pensioner-friendly bathroom • Serpentine Bathroom Tiles • Wall To Wall Fitted Bathroom Storage