The bathroom is in a house in Warwick. The owners wanted the bathroom to be refitted leaving all of the bathroom items in the original position.
The heating system is a low pressure heating system. To ensure good pressure water at the shower it was decided that a Triton electric shower be fitted as a thermostat shower would only work if a shower pump was fitted.
The bathroom
The image below is of the bathroom floor plan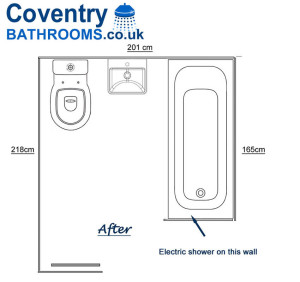 The clients requested a vanity storage basin. The bathroom is 2 meters wide with the toilet 15cm from the wall. Allowing for the space to the left of the toilet, the width of the toilet and leaving a space to the right of the toilet a total of 66cm is used. The bath is 70cm wide. Allowing for a space between the bath and the basin, there is only a gap of 54cm. It was decided to use a space saving vanity basin at 40cm so the bathroom would not look to cramped.
Images of the refitted Bathroom
The picture below shows the bathroom walls and floor tiled. It also shows the space saving vanity basin with the spaces left for the toilet and between the basin and the bath.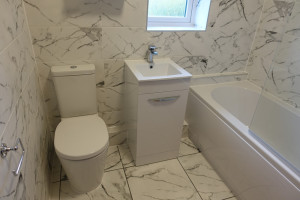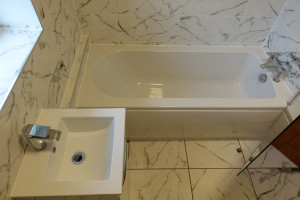 The shower chosen was a Triton Aspirante 8.5kW electric shower.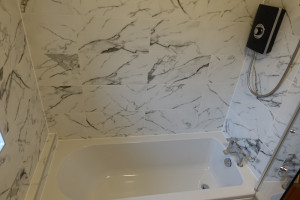 The house is not fitted with gas central heating, we heated the bathroom by using a chrome towel warmer and fitted it with an internal electric heating rod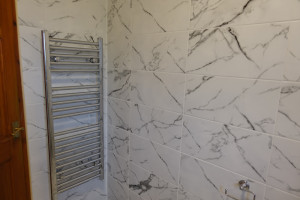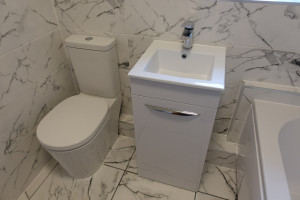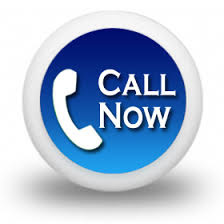 Tagged with: Italian carrara marble Bathroom Tiles • Space Saving Vanity Storage Basin Unit • Straight Bath