The house is in Condon Coventry and was built before the Second World War. The bathroom is not the regular rectangle shape. Over time the upstairs floor plan had been altered, closing doorways and opening other. The bathroom presented several obstacles that we had to resolve before the shower room could be finished.
This is the bathroom we removed, though was not the original bathroom from when the house had been first built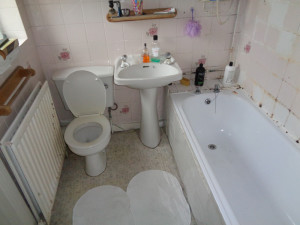 The bathroom design was very traditional with a bath running from one wall to another with a pedestal basin and toilet next to it. The floor plan below shows the original bathroom design and layout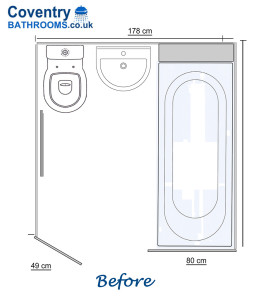 The client wanted the bathroom to be remodeled as a shower room. This is a good opportunity to open and create floor space. This is easily achieved by first placing the shower on two walls and the moving the basin to the open area at the end of the shower tray. The heating was relocated from under the window, next to the basin and to ensure the room is was a 450mm x 1600mm towel warmer was fitted.
The drawing below shows the new shower floor plan and design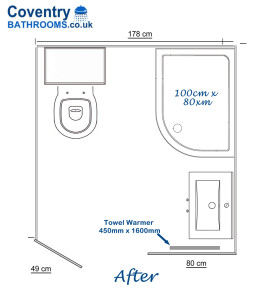 Shower tray supplied was a 1000mm x 800mm quadrant shower (cureced shower)
The basin was a 600mm wide vanity basin offering storage
Towel warmer 1600mm x 450mm
Tiles are Stone effect ceramic wall and floor tile.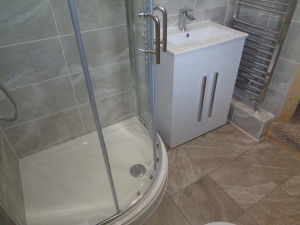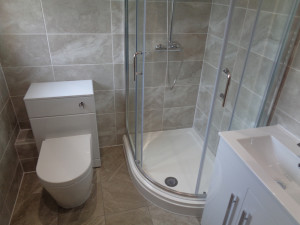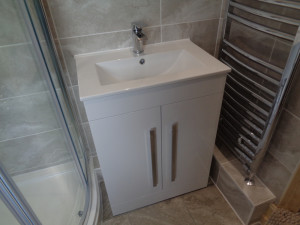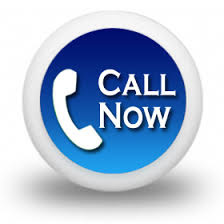 Tagged with: quadrant shower • Roundhay Bathroom TIles