Coventry Bathrooms are an independent bathroom specialist, supplier and fitter of showers wet rooms, mobility bathrooms and en-suites that you can view at our bathroom showroom and shop. We constantly monitor all of the major tile, plumbers supply and bathroom suppliers from around the UK to ensure that we find the best offers and then package the separate parts into one of several stylish bathroom sets and offer them to the customer at the lowest possible price.
Bathroom Showroom
We have a Bathroom showroom with various fitted bathrooms and shower rooms in our shop located on the Radford Road in Coventry. The bathroom showroom is open Saturday and all other times by appointment. This ensures that we can keep our costs to a minimum by not staffing the bathroom shop at all times, but giving you the customer the service you need by offering you a private viewing of the bathroom showroom. We can offer you the flexibility to also visit the shop in the evening outside of business hours. Alternatively the bathroom showroom is open to the public Saturday 11pm – 5:30pm
You the customer have the opportunity of
Ordering a pre designed bathroom directly from us at a low price
Design a bathroom bespoke with us that meets your exact requirements
Bathroom Fitter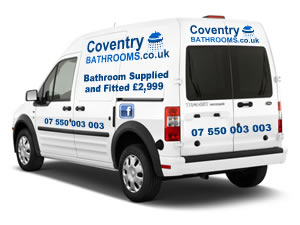 As well as being a bathroom fitter, we offer a wet room and shower room conversion service, first removing the old bathroom suite, tiles and floor covering. This service is required as a result of the ageing population and the needs of the older customer that requires easy to step out of baths and showers. All wet rooms are fitted with a non slip floor and easy to grab stainless steel handrails, making the bathroom accessible safe and easy to use.
Bathroom Supplier
Most bathrooms with pre-existing plumbing can be updated with a new bathroom suite and tiles for less that £3,900. If you have received a higher quotation, contact us as we are certain we can supply you the same product while saving you hundreds if not thousands of pounds.
Landlord bathroom specialist
In the Coventry area we provide a set date landlord bathroom specialist service. The landlord pre-books a fitting date to match that of the tenant leaving and the property being vacant. This service we offer at an extremely competitive price, helping the landlord to get the bathroom fitted quickly and ensuring the amount of time the property is not rentable is reduced to a minimum (normally 8 days) and the house is back on the rental market.
Coventry Bathrooms, Suppliers and Fitters of bathrooms in the Coventry, Leamington Spa, Warwick, Kenilworth, Bedworth and Nuneaton areas. Visit our Bathroom Showroom and Shop on the Radford Road Coventry